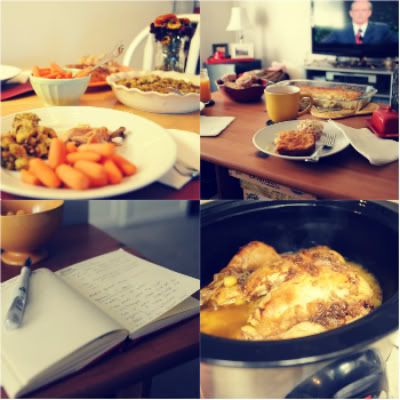 Just in case you were wondering... we had a very cozy conference weekend. It consisted of lots of yummy food (made by yours truly), naps, inspiration, wearing pj's and not showering until the late afternoon.
As always I made a pan omelet & blueberry muffins for brunch and then for Sunday dinner I decided to cook a whole chicken in the crock pot. it. was. incredible. And don't worry, it was
so
easy. I just put olive oil in the bottom of the crock pot, put the
de-gibleted/rinsed chicken in, put some more e.v.o.o. on top along with s&p & a packet of onion soup mix. For a little extra flavor I also put some chopped onion in the cavity & sprinkled on top. I cooked it on high for 6 hours and it literally fell off the bone when I tried to serve it. I also made some cooked carrots and corn bread stuffing. Thank you trader joes. Man, I love conference weekend.
Can you tell I'm excited for the holidays by all the cooking?